Grandest of the hotels in Nuremberg City Centre: Le Méridien
JUST AS ALIVE TODAY AS IT WAS 1,000 YEARS AGO: NUREMBERG
With over 500,000 inhabitants, Nuremberg is not only the second largest city in Bavaria, but at the same time is the second most important commercial centre of the free state. As far back at the Middle Ages, the Franconian metropolis was a powerful main trading point. The impressive Nuremberg Castle, landmark of the city, pays homage to this time period. In around 1800, Nuremberg was close to falling under Prussian rule, but it did not go so far. Instead, Nuremberg became part of the Kingdom of Bavaria in 1806.
Artists such as the painter Albrecht Dürer, the poet Hans Sachs and the sculptor Veit Stoss made the city famous. The pocket watch and the terrestrial globe were invented here. The composer Johann Pachelbel, who with 'Canon' wrote one the most popular pieces of music of the Baroque period, is also a city native. Nuremberg has become affluent through the distribution and production of toys and works of art.
UNLOCK ART™ - Neues Museum
Art for explorers. If you want to experience contemporary art in matching surroundings, your next stop is Neues Museum. You will find a complimentary admission ticket in your room. On 3000 m² the exhibition at Neues Museum shows contemporary art and design as well as classic masterpieces. Sculptures, paintings, video and foto installations are linked in a unique and fascinating way.
Nuremberg with children
Our rooms + suites offer all the opportunities to create a harmonic family life also far away from home. Connecting rooms provide extra space for play + fun so that you can uncover Nuremberg together as a happy family! There are a lot of attractions for you to discover in Nuremberg.
You will get 50 % discount off the 2nd room as well as a welcome amenity by LEGO®.
Things-to-do in Nuremberg
Be inspired by the unhurried and relaxed city of Nuremberg in the heart of Bavaria. Discover different things to do in Nuremberg recommended by Le Méridien Grand Hotel in Nuremberg City Centre. Nuremberg is always worth a journey and offers a large diversity of sights and activities.
Please do not hesitate to contact us via Whatsapp at all times: +49 911 232 2692
Le Méridien Grand Hotel in Nuremberg Old Town
MIDST OLD TOWN
At the gates to the Old Town in Nuremberg the hotel is perfectly located for your journey of discovery through this marvelous medieval city.


What's Nearby
How To Get Here
Unable to find directions, please try again.
BEER TRATDITION
Excellent beer is also brewed here. There are more than 270 breweries in the vicinity of Nuremberg. The city is known for its famous red beer. The brew is served in rustic inns and goes incredibly well with the most well-known dish of the region, the Nuremberg Bratwurst, which is typically enjoyed with sauerkraut.
LANDSCAPE
Nuremberg is nestled in a truly inviting landscape. The city is surrounded by rolling hills. The Franconian Switzerland, a low mountain range whose mountains reach a height of up to 600 m, spans to the north of Nuremberg. There thrives the franconian grapevine, which is later sold all over Germany.

FRANCONIAN METROPOLIS
Today, Nuremberg is a lively city with a unique historic flair due to its almost 1.000-year-old history. Shopping fans will find a wide array of shops and boutiques, and not only in the Old Town. Everything can be conveniently reached on foot from the train station, above all, the world-famous Christmas market, which attracts and entertains thousands of tourists every year.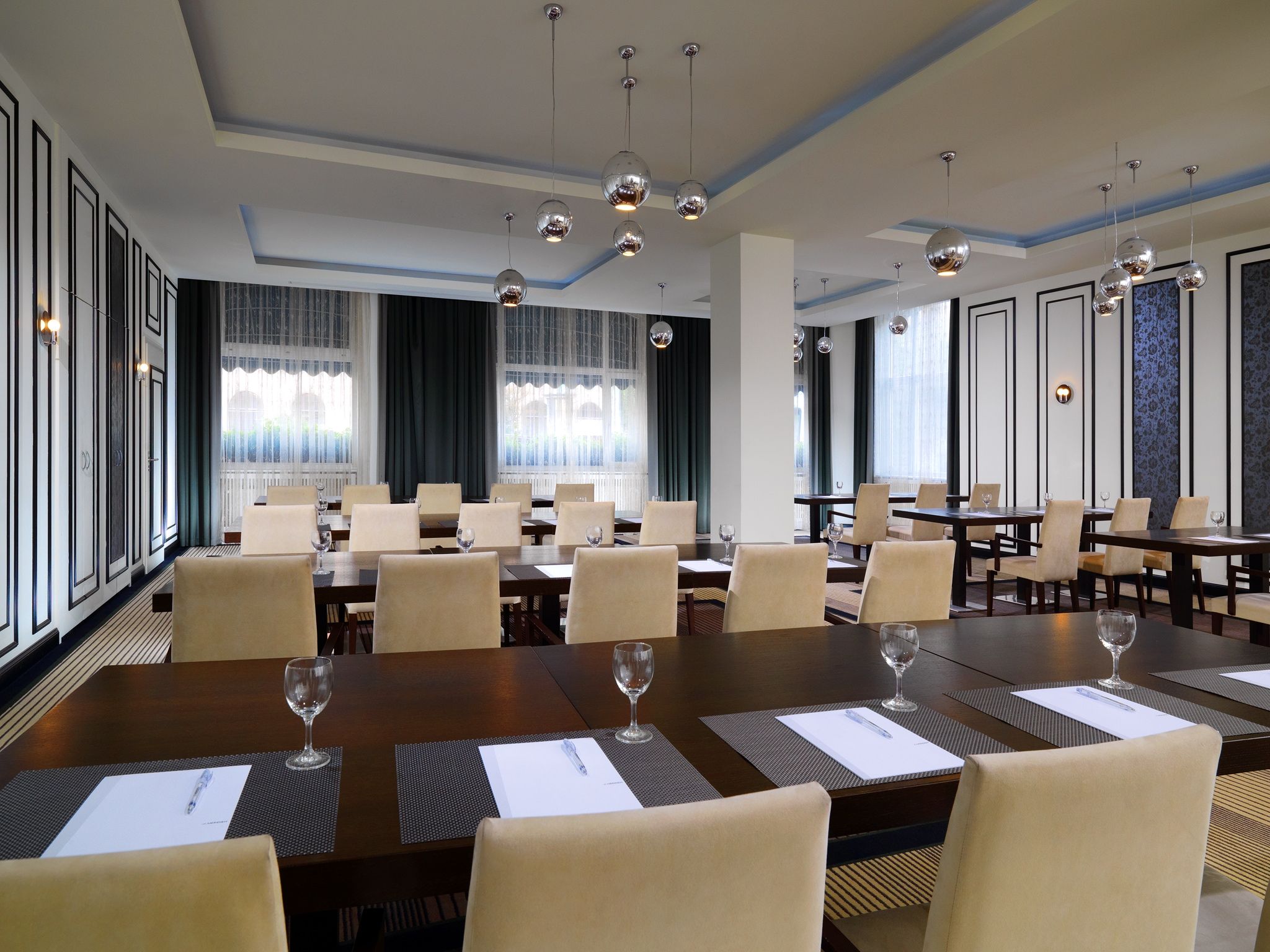 TRADE FAIR ROOMS IN NUREMBERG
Nuremberg is a prime location for trade fairs + exhibitions all year round. With its convenient setting between the Old Town and the Main Station Nuremberg combined with our special rates for business travelers and meeting offers the Grand Hotel Nuremberg is your preferred business hotel.
Weather forecast for Nuremberg
Powered By
Currently
18 °
Light rain
22 Sunday
Scattered showers
23 Monday
Isolated showers
24 Tuesday
Sunny with cloudy periods
25 Wednesday
Sunny with cloudy periods
26 Thursday
Sunny with cloudy periods